Join us in Munich on 14 November to share new trends and good practices in the fields of HR and controlling at our annual convention, this time hosted by Stadtwerke München.
When: 14 November 2017
Where: Stadtwerke München, Munich
It is a pleasure to announce our next Dynaplan Convention, this year in Munich at Stadtwerke Munich on 14 November: Mind over chip — Shaping the future workforce for business success.
Together, we will share and discuss the latest developments in the area of strategic workforce management, the interface to competence management, and people analytics. As always, we have reserved enough time for best practice sharing, as well as an early bird session for newcomers in the field.
Please save the date, and thanks a lot to our host, Stadtwerke München.
Venue
Stadtwerke München GmbH
Emmy-Noether-Straße 2
80992 München
Mind over chip — Shaping the future workforce for business success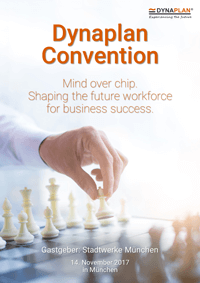 Download the convention flyer (German)
Agenda for the convention
Hotel recommendations
Leonardo Hotel Munich City Olympiapark
Dachauerstrasse 199
80637 München
https://www.leonardo-hotels.de/
Derag Living Hotel am Olympiapark
Paschstr. 46
Neuhausen – Nymphenburg
80637 München
Fee
600 EUR, including morning and afternoon refreshments as well as the get-together dinner.
If you are a current client, we're offering a discount of 25% for registrations received by 14 September.
Cancellation
No refunds will be provided for cancellation received after 15 October. Substitutions are possible at all times.
Sponsor