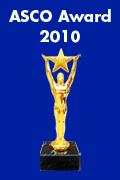 June 1, 2010 the Swiss Association of Management Consultants (ASCO) awarded the certificate "Excellent Business Transformation" to the project "Plan@HR - Strategische Personalplanung mit Weitblick".
The project improves the balance between the global personnel planning and the business needs of Evonik Industries AG.
"The right worker at the right time at the right place" is the objective for this strategic personnel planning project. The project relies on Dynaplan Smia for scenario simulation in combination with systemic methodology for gaining an holistic perspective on personnel dynamics.
After an initial project phase from January 2009 until February 2010 the implementation of the strategies for maintaining the correct employee portfolio turned HR from an operational service center into a strategic partner for the corporation.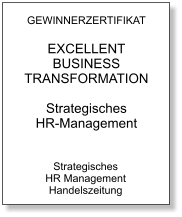 Mit dem Projekt "Plan@HR - Strategische Personalplanung mit Weitblick" verbesserte Malik Management die Abstimmung zwischen der weltweiten Personalplanung und den unternehmerischen Bedürfnissen der Evonik Industries AG.
Um das personalpolitische Ziel "der richtige Mitarbeiter zur richtigen Zeit am richtigen Ort" mittels strategisch ausgerichteter Personalplanung zu erreichen, wurde nach einer Initialphase zwischen Januar 2009 und Februar 2010 der systemorientierte und Tool-unterstützte Ansatz der Szenariosimulation mit der Software Dynaplan Smia eingesetzt.
Durch die nachhaltige Umsetzung der Strategien mit dem richtigen Mitarbeiterportfolio wandelte sich HR von einem operativen Dienstleister bei der Umsetzung von Personalmassnahmen zu einem strategischen Partner für das Geschäft.
Am 1. Juni 2010 gewann das Projekt das Zertifikat "Excellent Business Transformation" der Association of Management Consultants Switzerland (ASCO).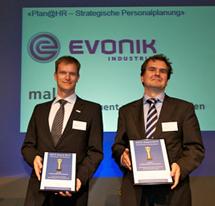 ASCO Award – Excellent Business Transformation 2010
Dr. Lars Renner (left) and Dr. Kai Berendes (right)
Die ASCO prämiert mit dem Award "Best Business Transformation" jährlich die besten und nachhaltigsten Unternehmenstransformationen in der Schweiz. Der Award sowie die Zertifikate "Excellent Business Transformation" sollen erfolgreiche Beziehungen zwischen Kunden und Beratern hervorheben, das Bewusstsein für exzellentes Consulting schärfen sowie auf ausserordentliche Erfolge qualitativer und quantitativer Art hinweisen. Der Kunde wird gemeinsam mit seinem Beratungsunternehmen für das realisierte Projekt geehrt.