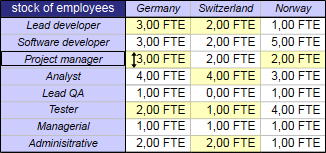 The Dynaplan team proudly presents version 1.3 of Smia, featuring large improvements to the way our models handle changing metadata, be it from changing libraries or scenarios, rolling forecast, or reloading connectivity data.
The new reference scenario feature will make comparing scenarios even easier, down to individual cells.
We've also focused on the area of giving input to models. New functions and more spreadsheet features reduce the need for scrolling through large tables, making specifying rules and exceptions in your assumptions much easier and clearer. See the video below for examples.
| | |
| --- | --- |
| | Watch the video presenting this new release. |
Changing metadata presents challenges for keeping charts and tables consistent and correct. Smia 1.3 has gone a long way towards answering that challenge. You'll find that for instance executing a rolling forecast or reloading connectivity data now requires much less maintenance on your cockpits.
The default and reference keywords has allowed us to specify what definition to use for a variable when clearing user-defined contents, and comparing variables cell by cell to their defaults, or to the new reference scenario concept. This is an expansion on the compare function in the Scenario smithy, which now allows you to compare any variable cell by cell to the reference in any table, or in the table window.
Using historical data in simulations is now easier. We've added parameter estimation for future assumptions, and way to handle variables with both historical records and future assumptions.
The table has received some much-needed upgrades to its editing capabilities, especially across boundaries on the composite tables, where multiple variables are joined together. Copy, paste and drag-and-drop both internally and to and from Excel should now be feature-complete. In addition, we've added functionality to drag a row or column of data back and forth, making sorting/prioritizing easier.
When it comes to optimization, this time we've focused on the formula bar, and loading large libraries. These areas should be noticeably faster. The connectivity module loads data in a smarter way, allowing one connection's data to be used when loading the next, and preventing temporary health card errors from popping up. The engine has been upgraded to handle up to 4 million elements per variable, doubling the capability from Smia 1.2. Curving texts should also look better, since we've switched to a better font rendering engine.
In addition, there are several new, smaller features, and as always, a long list of bug fixes, included in this release. For more information, please see the version history.
And you can visit the suggestions page whenever you like to request new features for upcoming versions.
Installation
If you have an existing version of Smia installed on your computer, upgrade to the new version is done automatically when you start Smia, unless you have switched off «Look for software updates each time application is started». See «Edit | Options | Startup».
In case automatic update is disabled, you can start it manually from «Help | Look for software updates...».
In case you have already uninstalled Smia from your computer, or if you are installing Smia for the first time, you need to download the setup file from Downloads. Then run the setup program and start Smia. Follow the instructions provided on the screen to activate Smia.
See Forum for more details or asking for help.