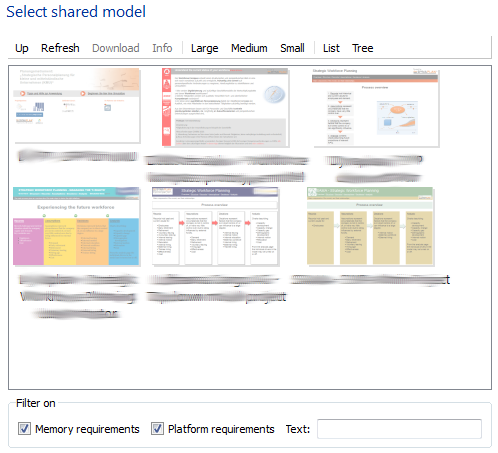 Dynaplan Smia 1.4 represents a paradigm shift in the way people work with and share Smia models. The new shared models concept lets you distribute and manage versions of your model, with full control over access and permissions.
This release is also the first public version of the software. With the introduction of the limited, but free, Executive licence, anyone can download and install Smia, and enjoy the free demos and models that will be made public in the shared model collection.
Other than that, there are plenty of new features and improvements to scenario robustness, performance, charts and more.
| | |
| --- | --- |
| | Watch the video presenting this new release. |
The planning process consists of four major steps: Building a model of your reality, preparing it with the latest data, exploring it through scenario analysism, and finally publishing the chosen plan. The three last steps are repeated in a cycle, with occasional need to return to the first step if the reality shifts to a large degree. Typically, different teams and stakeholders participate in the different steps, with the need to cooperate amongst themselves, and to share the results with the stakeholders in the next step. We want to support all of these steps, and with this release, we make big strides forward in this regard.
In this version of Smia, we greatly simplify both model sharing within a team, and publishing a finished work to others. We introduce shared models, making it easy to receive, update, and publish your models from within Smia. Who gets access, and what their responsibilities are, is controlled through a web interface. Both the models themselves, as well as their transfer, are protected by high-grade encryption.
For those stakeholders who do not need access to the full feature set of Smia, we offer the new, free Executive licence, allowing them to view shared models available to them. This will allow you to share your models more widely across your company, without investing in Enterprise licences for users who only need to see results, analyse scenarios, or play with decisions and assumptions. A streamlined activation wizard helps new users create their free licence with a minimum of fuzz.
Scenarios have been made more robust to changes in metadata, for example in connection with database imports and rolling forecast. This saves the planners preparing the model a lot of manual work to incorporate changes to job clusters or other structures.
Simulation is the core of scenario analysis, and we have improved upon this in several ways, like visualizing the switch from history to future in the simulation bar; adding an interactive mode where you can change parameters on the fly, adapting to the simulation progess; and heavy optimisation to vector operations, significantly speeding up and, to some degree, improving memory consumption of vector-heavy models.
To further assist the publishing/exploring step, there is a new export dialog, where, among other things, you can export only the scenarios and the relevant cockpits from a model, minimising its memory footprint. This will allow bigger models to fit onto smaller devices, giving more people the opportunity to view your results.
In our effort to be boardroom ready, to allow you to present your model directly in Smia, we have kept improving our charts as well. Labels now utilize collision detection to improve layout, and stacked charts allow for excluded items, to for instance let you compare a stack to a fixed value.
In addition, there are several new, smaller features, and as always, a long list of bug fixes, included in this release. For more information, please see the version history.
And you can visit the suggestions page whenever you like to request new features for upcoming versions.
Installation
If you have an existing version of Smia installed on your computer, upgrade to the new version is done automatically when you start Smia, unless you have switched off «Look for software updates each time application is started». See «Edit | Options | Startup».
In case automatic update is disabled, you can start it manually from «Help | Look for software updates...».
In case you have already uninstalled Smia from your computer, or if you are installing Smia for the first time, you need to download the setup file from Downloads. Then run the setup program and start Smia. Follow the instructions provided on the screen to activate Smia.
See Forum for more details or asking for help.