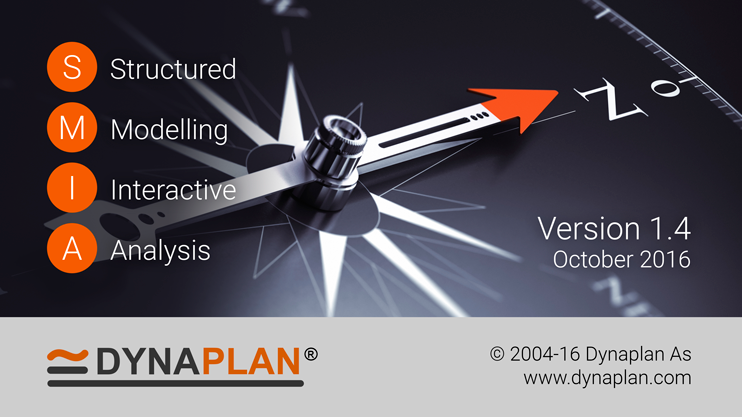 Dynaplan Smia 1.4 service release 1 is ready for download. This is mostly a bug fix release, although it does introduce some helpful improvements to your workflow, like improved support for high-resolution devices, better scenario handling for metadata changes, more flexible handling of synchronized page dimensions, and more.
In addition, the 1.4.1 release supports the new version of our HR library, with a renovated cockpit design and functionality, and many new features that can improve your SWP solutions. See our newsletter for more details about the HR library release.
A new, compatible version of the Smia app for iOS is also being released at this time, which includes all the relevant improvements from the desktop version.
While service releases typically focus mostly on bug fixes and incremental improvements, Smia 1.4.1 is also the version designed to support our new HR library release. Although we have improved Smia in a lot of areas, the focus has been on polishing interactions with models using the new HR library cockpit, and expanding some parts of the Smia engine to support new HR library features.
Example of the new SWP cockpit design.
New, robust functions for parameter estimation and regression are implemented to help customers make better use of past and current data in their forward-looking scenarios.
Scenario handling of metadata changes continues to improve. Rolling forecast, data import, and library reload work even better in Smia 1.4.1.
Self-referencing arrays and function component support has been expanded on in the engine. There's also increased support for the mixed data type, extending to table input controls as well.
Row-based input has been improved to ease giving input to your HR library based models, ensuring that any combination of row or data cell insertion and deletion goes smoothly.
Setting up synchronized page dimensions for charts and tables across a diagram has been made more flexible, allowing the cockpit designer more options to tailor the solution to your needs.
High-resolution devices are becoming more and more prevalent, and new challenges appear, like having your application look nice when you plug in a standard resolution projector. We have further improved upon our high-resolution support in this release, and will continue to work on this issue.
To see the full list of improvements and fixes included in this release, please see the version history.
And you can visit the suggestions page whenever you like to request new features for upcoming versions.
Installation
If you have an existing version of Smia installed on your computer, upgrade to the new version is done automatically when you start Smia, unless you have switched off «Look for software updates each time application is started». See «Edit | Options | Startup».
In case automatic update is disabled, you can start it manually from «Help | Look for software updates…».
In case you have already uninstalled Smia from your computer, or if you are installing Smia for the first time, you need to download the setup file from Downloads. Then run the setup program and start Smia. Follow the instructions provided on the screen to activate Smia.
See Forum for more details or asking for help.
Activation
With earlier versions of Smia, updating to Windows 10 led to Smia not accepting its activation key. Smia 1.4.1 fixes this issue. As a workaround for earlier versions of Smia, some customers have re-activated their licences. When upgrading to Smia 1.4.1, Smia may not accept the existing activation key. Please create a ticket so we can help you reset your activation.