Dynaplan Smia 2.0 is ready for download. In this version, customers can now host their models on their own Sharepoint servers, or their local file system, ensuring their data never leaves their intranet, even encrypted. The user interface is more customizable than before, letting users switch between tablet and desktop look-and-feel based on their needs, removing most of the interface altogether with the panorama mode, and even going full screen when desired. The engine has been updated with support for more varied simulation horizons, agent-based motion functions for SWP, and better data importing capabilities. Performance has been enhanced in several areas.
A new, compatible version of the Smia app for iOS is also now available. It includes all the relevant improvements from the desktop version.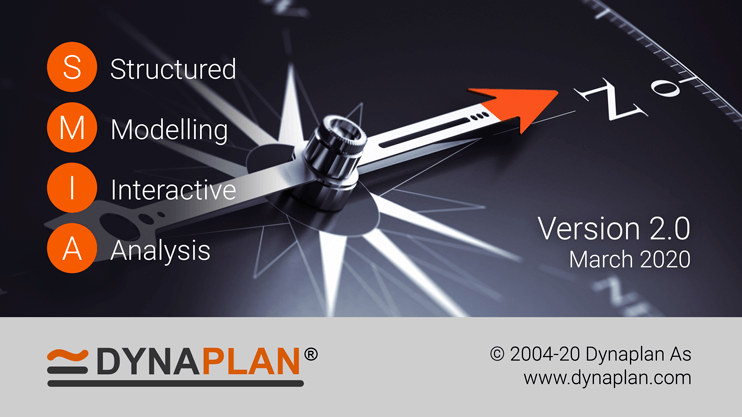 Smia 2.0 represents a big step forward for Dynaplan. We've updated the technologies our application is built on, and rewritten and improved on numerous aspects of both the engine and the user interface, for the benefit of all the stakeholders of the planning process. To mention a few:
The modeller
For the modeler, the engine now supports advanced agent-based motion functions for SWP. It can also handle more varied simulation horizons. The model browser and health card have been rewritten from the ground up, enabling us to include stronger sorting, searching, and filtering features.
The planner
For the planner, scenario and metadata handling has yet again been improved, including during data connectivity import, and consolidation. The consolidation UI has also been overhauled to become more user friendly. The new model browser also includes new analysis and review views, customized to the needs of these modes.
The decision maker
For the decision maker, various views exist to browse the model in whatever fashion preferred. The Qt 5 cross-platform library allows us to emulate our iOS app look-and-feel. There's also a new minimal UI mode that hides all but the most critical buttons, and a full-screen mode that works with all views.
And for the benefit of all, stronger encryption now protects your data even better, and private hosting now allows you to store your shared models on your local network (using SharePoint or network drives), ensuring your data never has to venture beyond your firewalls. Also, several processes have been optimized for speed, some even parallelized to make use of multiple processor cores, so the new Smia 2.0 should be faster than ever.
To see the full list of improvements and fixes included in this release, please see the version history.
Feel free to visit the suggestions page whenever you like to request new features for upcoming versions.
Installation
If you have an existing version of Smia installed on your computer, upgrade to the new version is done automatically when you start Smia, unless you have switched off Look for software updates each time application is started. See Edit | Options… | Startup.
In case automatic update is disabled, you can start it manually from Help | Look for software updates….
In case you have already uninstalled Smia from your computer, or if you are installing Smia for the first time, you need to download the setup file from Downloads. Then run the setup program and start Smia. Follow the instructions provided on the screen to activate Smia.
See the forum for more details or asking for help.