Hosted in London, this annual conference has rapidly become one of Europe's largest HR analytics events. This year the conference convened more than 300 delegates from 30 countries and 200 different companies — a growth of 80% since last year!
As part of the event, a panel of outstanding experts with long experience in the field voted for the best planning solution provider. When announcing the Business Supercharger award, the panel explained their choice like this:
There are two main factors behind Dynaplan's successful history as provider of impactful strategic planning to corporations: our technology, and our subject-matter expertise in the areas where we operate.
It all started in 2002 with the creation of a new modelling language designed with the requirements of the business community in mind. Our unique technology gives organisations a way to build a holistic and dynamic simulation model of the main cause-and-effect chains that determine the future. When unplanned events happen or trends change, the organisation's planning model is fed with fresh information and used to respond adequately and timely to the new reality.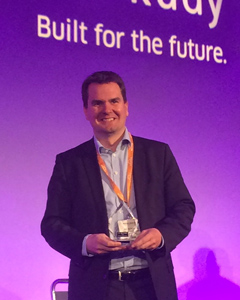 Dr. Kai Berendes, strategic workforce planning expert and executive partner, receiving the HR analytics Business Supercharger award 2016.
It has already been ten years since our first strategic workforce planning engagement based on our technology. Together with a major health insurance company we set up a model-based scenario planning process to cope with demographic change as well as changes in customer structure and behaviour. Today we cover both business dynamics and workforce dynamics. By bridging business strategy and HR, we help customers address challenges and take advantage of opportunities that open up in the wake of new trends, such as digitalisation.
Dynaplan's solution belongs to the topmost level of the maturity model for analytical solutions. The lower levels are useful for learning from the past and establishing a good picture of the current state of affairs. The topmost level shifts focus from learning from history towards shaping the future.
Analytics maturity pyramid
We are proud to have received this award; it reconfirms to us, as well as to our customers, that we are on the right track. Our journey started at the strategic level, where the impact of making the right decisions is the greatest. But the other levels of the maturity pyramid also brings value to workforce management. Dynaplan is continuing its innovative journey, expanding our technology and services into the areas of statistics and benchmarking as well.
Learn more and join us in Berlin on November 16th to share new trends and good practices in the fields of HR and controlling at our annual Dynaplan convention, this time hosted by Deutsche Bahn.