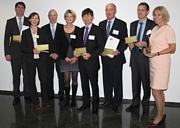 The forum "Managing demographics" was held in Frankfut am Main September 22, 2010, addressing demographic challenges from different angles. Together with six other participants, Evonik received the best practice award for its Plan@HR project.
Thanks to Dr. Thorsten Trachte for providing the following text:
"Managing Demographics" prize
Evonik and six other enterprises were awarded the "Managing Demographics" prize in Frankfurt am Main, Germany, for their best-practices performance in this field.
A total of 137 organizations in a variety of sectors, among them many DAX-listed companies, subjected themselves to an audit by APRIORI, a management consulting firm. To establish how capably prepared those companies were to deal with this issue and provide a comprehensive overview of the measures conventionally applied in practice to manage demographic change, the participating organizations were surveyed and required to respond to in-depth questioning. The survey looked at all of the eleven official metropolitan regions in Germany.
What the survey reveals is that many companies have not yet made sufficient accommodations for the demographic change they face with an aging workforce. The biggest deficits exist in the recruitment of applicants aged over 50, offerings for continued training, and accommodations for career opportunities for this age group. In contrast to these policy deficits, healthcare offerings such as free medical examinations and fitness courses are frequently regarded as an ideal means of preserving the physical performance capacity of aging employees.
At Evonik, the issue of demographic change has been on the corporate agenda since 2004, indeed it has been addressed at the level of the chemicals social partners scheme since 2008. The jury considered the strong heterogeneous structure of the corporation—with its three business areas of Chemicals, Energy and Real Estate—to pose a particularly formidable challenge. Despite this structural division, it stated, Evonik has managed to develop a Group-wide strategy for all its business units within the scope of its Plan@HR project on strategic HR planning, without, however, actually dictating a detailed, universal master solution to those business units. The jury also specifically praised the concept for health promotion facilitated by Evonik Steag GmbH's LIFE lifestyle program.
Contact:
Dr. Thorsten Trachte
+49 201 177-3137