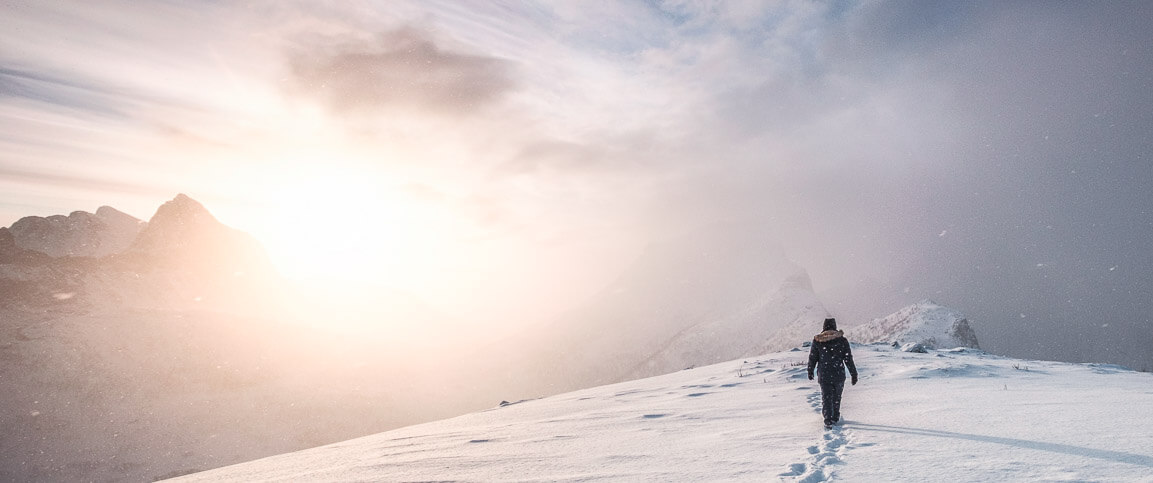 There is no such thing as bad weather
Dear reader,
If you should ever experience a rainy day in Norway, and you complain about it, someone will tell you:
There is no bad weather – only bad clothing!
There is a subtle wisdom behind this; we should focus on things that we can do something about, such as, our clothing.
In the business world, there is also risk. But we cannot use that as an excuse when things go wrong. We need to be prepared.
"There are no bad business conditions – only bad choices."
Daniel Kahneman writes in his (highly recommended) book "Thinking fast and slow" about two different decision-making processes. Thinking fast is for the "sunny" days of business; while thinking slow is crucial when business gets "stormy".
As an example, cost-cutting might be the first action that comes to mind whenever earning targets are missed. Cutting cost is a first-order solution, directly addressing the problem at hand.
In many situations, first-order solutions can create more problems than they solve. Thinking slow means to take the time and effort needed to come up with and analyse alternative scenarios before making our choices.
Thinking slow is more about the quality of the process than the time it takes. Through agile technology and processes, it is our aim to turn thinking slow into a fast and ongoing process that helps our customers make the right choices.
We thank you for the co-operation in 2019 and look forward to continuing our exciting journey in 2020.
Happy holidays,
From your Dynaplan team
Contents at a glance
UNLEASH World
HR Practice Group at Audi in 2020
HR Trends 2020
HR Match at Stadtwerke Solingen
Patients wait 7 times more than necessary for health care
Using uncertainty in models
UNLEASH World 2019
Our simulation tool presented by Deutsche Bahn
Once again, Dynaplan made an impact at UNLEASH PARIS 2019, the world's largest gathering of HR leaders and HR technology. Claudia de Andrés-Gayón from Deutsche Bahn presented on stage how Dynaplan's SWP solution plays a key role in their toolset for planning the workforce of the future. At our stand, the new Strategic Competencies Planning model made a strong impression on attendees, showing how as organisations mature, planning of competencies expand from the realm of analyses of individual competency assessments into the core of the strategic planning process.
HR Practice Group at Audi
Audi Forum, Ingolstadt, 26-27 May 2020
It is our pleasure to announce the next HR Practice Group, this time hosted by Audi in Ingolstadt. We launch the event on 26 May with an evening programme, and use the following day for an in-depth exchange about strategic workforce planning practice. We will discuss current trends (e.g. link between job clusters and competencies) and intersecting topics, as well as best practice examples from various companies. As always, this group is free of charge and exclusively for our customers.
Dynaplan is part of HR Trends 2020
Every year the popular publication HR Trends is presented at the Frankfurter Buchmesse – the world's most important fair for print & digital content business. We are proud that for HR Trends 2020 we, together with Deutsche Bahn, were invited to present our solution for strategic workforce management in the digital transformation, highlighting the link between the quantitative and qualitative view about the future workforce. Learn more by reading HR Trends 2020. You will also have the chance to experience our solution at the HR Trends roadshow live next year in Bremen (19 March) and Nürnberg (28 April).
Mid-sized market solution at Stadtwerke Solingen using HR Match
Strategic workforce planning is not only a topic for the very big corporations. More and more small and mid-sized organisations face the same challenges, such as adapting to technological developments, and understanding the demographic situation in order to cover future workforce demands. Stadtwerke Solingen, the utility provider of the city of Solingen in Germany, has decided to address those challenges. The impulse to move forward with strategic workforce planning came after attending our webinar, after which they decided to use our HR Match solution, a preconfigured planning tool that can be implemented with little resources and time. We are very proud to welcome Stadtwerke Solingen in our community. The story is published in the magazine PERSONALFÜHRUNG 11/2019.
Patients wait 7 times more than necessary for health care
In its November issue, IJHPM (International Journal of Health Policy and Management) published a peer-reviewed article describing the results of a simulation study performed by Dynaplan in co-operation with Bergen University Hospital in Norway.
Not only in Norway, but also in many other western countries, waiting times are reported to be much higher than desired. Over more than 3 decades, governments, hospitals, and university professors have searched in vain for efficient and lasting solutions to the problem.
Dynaplan's scenario planning method was used to explore the nature of the problem and to identify possible solutions. Our findings were quite astonishing: While long waiting times are believed to be caused by lack of resources, simulations showed that the hospital's current waiting list management policies made it virtually impossible to get efficient and lasting effects of increased capacity (e.g., more physicians).
Based on scenario simulation, the project team was able to conclude that the waiting list management policies used by the hospital create a self-sustaining vicious circle that effectively prevents any first-order attempts to reduce waiting times.
Furthermore, simulations in combination with "thinking slow" (see intro) led to the identification of a second-order solution with the potential of a lasting effect of almost 90% reduction in waiting time for patients.
Using uncertainty in models
Whether we like it or not, we have to make certain decisions today, even if we are not exactly certain what the future will look like. This is why scenario planning is an integral part of our methodology and our technology. It allows us to explore different possible future paths to make sure that we have our grounds covered. But still, there is a risk involved with every decision, which is why it makes sense to stress test them. Our planning models can help you with that. The software can independently run through hundreds of scenarios with varying assumptions and then plot the probability distribution of the key output figures, such as necessary hiring over time. This increases the confidence level of your decision making, as you not only see the sensitivity of the output with regards to the variation of one single assumption, but of multiple assumptions being varied in a statistically meaningful way, and therefore either reinforcing or cancelling out the effect on the hiring number.