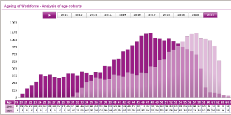 Evonik Industries GmbH is successfully using Dynaplan Smia for their strategic workforce planning. The new BI (Business Intelligence) connectivity features allow for an even higher quality and efficiency when loading new data into the models. Furthermore, simulation results can now easily be shared via existing intercompany MIS dashboards. Discover the full story...
-- See below for German --
Upgraded quality and efficiency during the daily operation due to SMIA BI (Business Intelligence) connectivity
Over the last years, Evonik Industries GmbH has successively emphasized strategic human resource planning with Dynaplan SMIA. The main goal for the competence-center at the corporate headquarters in Essen was to enable the business units and locations to autonomously perform scenario simulation on semi standardized planning models. Furthermore the exchange of know-how was promoted with periodic meetings were the workforce planners could exchange experiences and discuss possible fields of action. The results are impressing: A wide range of relevant questions have already been analyzed on all different planning levels. The derived findings and measures range from the planning of new apprentices at a single facility up to transnational reflections about a deficit of specialists and health management.
However the internal success of the project has raised some expectations. Strategic workforce planners are increasingly requested to do ad hoc analyses for special projects and situations, preferably based on real-time data and in consideration of a multiplicity of drivers and dimensions. There clearly is need for even more efficient methods in the planning process.
By connecting SMIA to the existing BI (Business Intelligence) System, Evonik has made a big step forward: The automated filling of the models allows now for an update of the data in a few seconds - in a considerably enhanced quality. The relevant data is imported from the BI System in real time and then immediately used as a fresh basis for the scenario simulation.
Future-oriented dashboards
But the interface isn`t a one-way road. Once the scenarios have been created in SMIA, they are uploaded in the BI System as plan figures. Via a dashboard visualization in the intercompany MIS (Management Information System) these data are provided to specific internal stakeholders such as managers responsible for the units that have been simulated. The advantages are obvious: The management is henceforth not only able to get information about the here and now but also about future developments i.e. to analyze scenarios in the dashboard, to pursue the progress of specific critical job families and to elaborate a common understanding of the challenges ahead and measures that have to be taken.
Dr. Thorsten Trachte & Gabor Zulauf
HR Strategy, Organization and Controlling
Evonik Industries GmbH
Verbesserte Qualität und Effizienz im Regelbetrieb dank SMIA BI (Business Intelligence) Konnektivität
Evonik Industries GmbH hat seit einigen Jahren sukzessive die strategische Personalplanung mit Dynaplan SMIA ausgebaut. Das Kompetenz – Center in der Konzernzentrale in Essen hat mit ihrem Planungs- und Steuerungsansatz in erster Linie darauf gesetzt, die Business Units und Standorte zu befähigen, mit zentral abgestimmten Planungsmodellen selbständig Simulationsszenarien durchzuführen. Mit regelmässigen Treffen der dezentralen Planer wurde zudem für einen zielgerichteten internen Erfahrungsaustausch gesorgt. Das Resultat ist beeindruckend: Eine Vielzahl an konkreten Fragestellungen wurde auf verschiedenen Planungsebenen schon bearbeitet. Die abgeleiteten Erkenntnisse und Handlungsfelder reichen von der AZUBI Planung an einem einzelnen Standort bis hin zu länderübergreifenden Überlegungen zu den Themen Fachkräftemangel und Gesundheitsmanagement.
Der interne Erfolg des Projektes hat jedoch auch Begehrlichkeiten geweckt. Immer häufiger werden die strategischen Personalplaner um ad hoc Analysen für neue Projekte und Bereiche seitens des Managements gebeten, möglichst auf Basis aktuellster Bestandsdaten und unter Berücksichtigung einer Vielzahl von Treibern und Dimensionen. Der steigende Bedarf verlangt nach effizienteren Methoden im Regelbetrieb.
Mit einer Anbindung von SMIA an bestehende BI Systeme hat Evonik gleich mehrfach zugeschlagen: Die automatisierte Befüllung der Modelle erlaubt nun eine Aktualisierung in wenigen Sekunden bei deutlich verbesserter Qualität. Die wesentlichen Initialgrössen werden direkt aus den Systemen in Realtime abgefragt, in das Modell geladen und als Basis für die Szenario Simulation genutzt.
Zukunftsgerichtete Dashboards
Die Schnittstelle ist aber keine Einbahnstrasse. Sind die Szenarien in SMIA einmal fertiggestellt, werden sie umgekehrt auch wieder als Planversion in das BI System (z.B. SAP BW) hochgeladen und über eine Dashboard – Visualisierung im konzerninternen MIS (Management Information System) kundenspezifisch den internen Anspruchsgruppen zur Verfügung gestellt. Die Vorteile liegen auf der Hand: Das Management kann im Dashboard nun nicht nur Informationen über das hier und heute abrufen, sondern auch über zukünftige Entwicklungen. D.h. die Szenarien im Dashboard analysieren, die Entwicklung bei einzelnen kritischen Jobfamilien verfolgen und so ein gemeinsames Bild bezüglich der Herausforderungen und Handlungsoptionen schaffen.
Dr. Thorsten Trachte & Gabor Zulauf
HR Strategy, Organization and Controlling
Evonik Industries GmbH
Click on image for bigger version: