System dynamics solves difficult problems with ease, but it cannot deal with simple ones.
- Not the bathtub now again...! My children are looking at each other around the dinner table, shaking their heads. Daddy has just presented his all-purpose solution to any of their problems. - Look at it as if it was a bathtub, I explain to them. - A good relationship is like a high level of water in the tub. It builds up over time as the result of opening the kind-words-and-deeds faucet, accumulating trust, confidence, and friendship between people.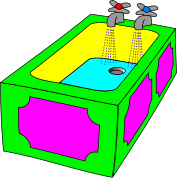 The bath-tub metaphor has become an integral part of my thinking. The concept of reservoir (tub), accumulation (faucet), and draining is the simplest, most general and powerful way I can think of when it comes to explaining situations (states), how they appear, and how they can be changed into more desirable situations.

System dynamics is a field that tries to take the full potential out of the bathtub metaphor, applying it to areas such as markets, population dynamics, national and global economies, human relationships, climate changes, productivity, inventory management, product life cycles, and so on.

Using only two basic building blocks (stocks and flows) system dynamics modellers can capture the essence of change. I think this is why system dynamics is one of the most beautiful disciplines around. With its tiny vocabulary (stock and flow) it can express key elements of any change that we experience – most of the time not even being aware of it.

System dynamics uses easy and intuitive graphical diagrams to illustrate the composition of models. This makes system dynamic models much easier to understand, communicate, and maintain than corresponding spreadsheet models.

I created my first system dynamics tool in the late 1980's. It was a DOS-based simulation tool called SimTek, and we used it to develop training simulators for people operating valuable and potentially hazardous industrial processes.

System dynamics is better known for its ability to model soft systems, and the company I ran at the time, also started to move towards business modelling. In 1993 Powersim Constructor was finished, and in 2000 Powersim Studio was released as the last product I was responsible for during my time with Powersim.

My son has always shown an interest in computers, and when he turned 10 years old, I thought it was about time that he started to learn how to model. The initial problem I challenged him to solve was to model his own savings account. He was already fluent in bathtub thinking, and could easily imagine his bathtub account with an inflow of deposits and outflow of withdrawals. An extra inflow was needed for adding interest paid into his account by the bank for letting them borrow his money. Below is a picture of the account model (using a PowerPoint-inspired version of the stock-and-flow diagram. In Dynaplan Smia we call this a box-and-arrow diagram).


The exercise was a disappointment to both of us. On the conceptual level, my son had no problems to assemble the model together. But he wanted the model to become operational, in the sense that he would enter information about every deposit and withdrawal he made and every change in interest rate that the bank might do. It turns out that you must be quite an expert in order to create a system dynamics model that represents accurate, transactional information. In addition, the graphical user interface of Powersim Studio, and any other system dynamics tool I know about, does not provide convenient means for the user to enter and display data at the level of detail that we needed for my son's first model.

System dynamics is slightly older than the spreadsheet. A system dynamics model is more visual, has better quality control, and it can capture the reality more closely than a spreadsheet. However, the level of acceptance among users is quite opposite. Spreadsheets are used by almost everyone, system dynamics by very few – at least relatively speaking.

I believe that part of the reason is related to the technology that has sprung out of the system dynamics field. Using system dynamics tools, it is almost as hard to model a teenager's savings account as it is to model the world economy. (Forrester's world model has only five stocks). By reformulating the statement, we see how powerful system dynamics can be: It is almost as easy to model the world economy, as it is to model a teenager's savings account. (An aggregated view of the world model is displayed below).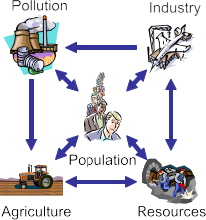 This observation is somewhat in line with Forrester's claim that important questions are not harder to solve than the unimportant ones. I agree with this. But from a market perspective, how many people are involved in solving global issues at work every day? (Such problems are "solved" by the most of us over a beer after work).

The spreadsheet is good for solving trivial problems. But since everyone knows how to use it, it is tempting to (ab)use spreadsheets to solve important, dynamic problems that are way beyond the spreadsheet's league.

For system dynamics, the matter is the opposite. It is a field that is perfect for dealing with holistic approaches to long-term, dynamic problems, but it is unsuited in dealing with conceptually simple questions that millions of office workers face at work every day.

Out of one hundred problems that require modelling, I guess that only one is framed as a non-linear, dynamic problem. The rest are static or linear in nature. Using system dynamics, it is harder to solve simple static problems than it is to solve complex dynamic problems. I think this in itself is enough to explain why it has never become the first choice for the masses. In addition, there are other hurdles that prevent system dynamics from entering the mainstream.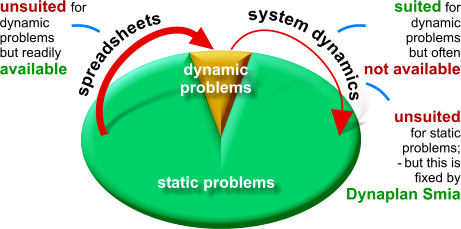 You may already be aware that spreadsheets and system dynamics have their strong and weak areas in different places. With the development of Dynaplan Smia we try to provide a technology that maintains the strong sides of both platforms, while avoiding the weak spots.

PS
Is system dynamics really a "good" tool? The answer depends upon the application. When problems are addressed in a wide context, using a holistic, aggregated approach, it typically turns out that most problems are dynamic, involving feedback, delays and non-linearities. Then system dynamics is your best tool. On the other hand, if you are focusing on details, short time horizons, and isolated parts detached from the big picture, there are probably better tools than system dynamics to meet your needs.