Together with our highly appreciated customers, Dynaplan pioneered SWP, and we continue developing and refining our top-notch solutions to address your workforce challenges of today.
Our customer base spans across all industries. Through our partners, our solutions are provided globally.
Whether you represent a large corporation, or a small enterprise, we and our partners are here to help you establish the SWP solution that is just right for you.
We offer solutions that can be customized to meet almost any SWP related need that your organisation might have. Further down on this page you can read more about our approach to SWP.
For specific segments and purposes we offer:
Aviation
SWP addressing the specific challenges in the aviation industry.
SWP Transition game
Here you and your colleagues can experience strategic workforce planning challenges in a motivating and enlightening simulation game.
Use the contact form to request a gaming session for your team.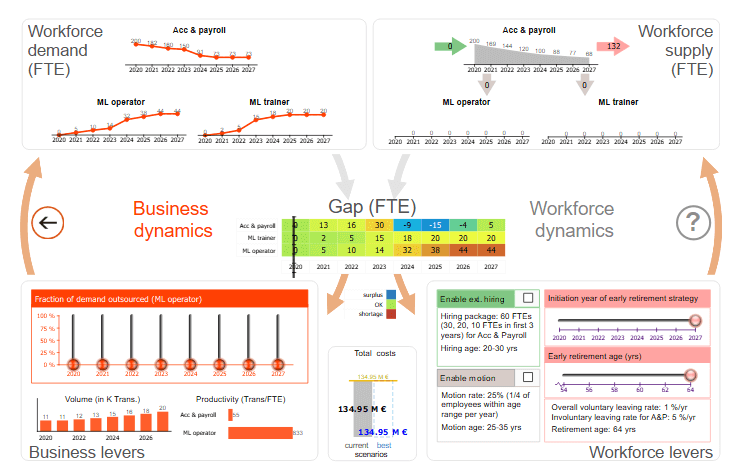 Use the contact form to request a gaming session for your team.
SWP webinar
We regularly organise webinars about strategic workforce planning (SWP). Sign up for our free 45-minute webinar to learn how to get started with SWP. Sign up now
In our advanced webinar series, stretching over two group webinar sessions and a one-to-one tutoring session, we show how SWP can become a central pillar of your mid- and long-term HR planning. Sign up now
Your invitation to explore Dynaplan's solutions in the context of strategic workforce planning
Why do we need Strategic workforce planning?
Strategic workforce planning (SWP, sometimes also called SWFP) has as its objective to ensure that an organisation's workforce is in line with the needs of the organisation at all times in terms of:
The ambitious objective is employing the right number of people, having the right skills and qualities, with a sound mix of gender, seniority, and background, located where they are needed, at a competitive cost.
HR managers need to optimise the workforce under continuously changing conditions. In addition, there is a great deal of uncertainty relating to the future applicability of current knowledge and solutions, in areas such as:
| | |
| --- | --- |
| Demographic changes | aging, migration, birth rates. |
| Technology development | digitalization, new workforce environments, 4.0 productivity, old jobs vanish, new jobs emerge. |
| Globalisation | relocation of production, Internet trade, geographical separation of production and consumption. |
| Labour market changes | competition for talent, scarcity of talent. |
Demographic changes
aging, migration, birth rates.
Technology development
digitalization, new workforce environments, 4.0 productivity, old jobs vanish, new jobs emerge.
Globalisation
relocation of production, Internet trade, geographical separation of production and consumption.
Labour market changes
competition for talent, scarcity of talent.
Managing an organisation's most valuable resource – its employees – is a task that cannot be left to chance.
We put together under the umbrella of the demographic network with leading companies e.g. Allianz, AOK, Evonik, Metro, RWE and SAP the principles and building blocks of strategic workforce planning. Reference: Kai Berendes et. al. Strategic Workforce Planning – Shaping the future today.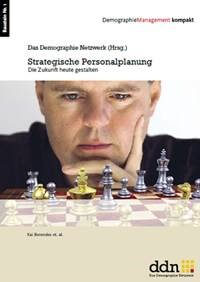 For more information please contact: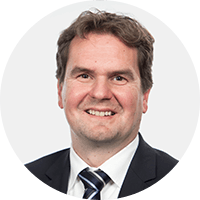 Benefits using Dynaplan's SWP approach
With our planning software, Dynaplan Smia, we deliver a unique way of solving key workforce-related challenges of today and tomorrow.
Dynaplan Smia helps you explore the dynamics of your workforce, both in terms of current and future supply and demand. The complexity, rate of change, and degree of uncertainty involved in maintaining the right workforce for the organisation over time, calls for a holistic and methodological approach backed by technology.
Dynaplan's SWP approach sees workforce processes and business processes together as pieces of a larger picture.
Our approach is flexible, and fits both for medium-sized and large enterprises. The workforce demand is determined in the context of the business strategy. From the projected demand for output from the organisation (services and products), the corresponding workforce demand is derived. Customer-specific SWP simulation models are used to make the calculations.
Your SWP simulation model identifies gaps between workforce supply and demand, and displays how the gaps develop over time for each job cluster. A gap represents a challenge – a failure to meet the ultimate objective of SWP, which is to keep the qualitative and quantitative gaps between the ideal and the actual workforce as small as possible on an on-going basis.
It is up to the SWP team to address any significant gaps early enough to correct the future development of the workforce. The SWP simulation model provides a cockpit containing levers representing different options, which the SWP team can use to steer the workforce supply towards the demand.
The simulation gives immediate feedback on the effects of different SWP initiatives, such as hiring, training, relocation, promotion, and outsourcing. The effects of processes such as voluntary and involuntary leaving, as well as retirement, are also calculated.
Some advantages of dynamic workforce scenario planning with Smia:
Improved workforce planning results, i.e., better plans.
Clearer communication of challenges as well as solutions addressed in any given strategic workforce plan.
Reduced cost and time involved in SWP.
How we work together
Any SWP project together with Dynaplan is steered by the customer, and supported by Dynaplan's experience, methodology, and tools.
Together we develop a customer-specific, comprehensive simulation model of your workforce and its dynamics, in the context of the needs of the organisation.
The figure below show the process from strategic questions to measures needed to implement the strategy.
At the end of this process, the project results, including the simulation model, are provided to the customer, who can use it on an on-going basis to monitor and steer the development of the workforce. Dynaplan provides operational support in this phase.
The individual steps of the process are described in more detail below.
1. Ask the right questions to meet your business needs
In order to address future challenges with appropriate HR measures, you have to define the model's purpose and scope first. The right questions will lead you to the right output views regarding capacity, age and qualification risks.
Key questions the planning model should answer:
Does the employee portfolio secure the implementation of the strategy?
What will be the capacity development in the following years, depending on retirements, voluntary/involuntary leavings, and internal motion?
How will the age structure look in the following years?
How many employees do we need to hire externally in the following years to close emerging gaps?
What are the costs arising from the various options for action?
Learning about the future
Considering the complexity of today's world, does long-term strategic workforce planning make sense at all? An article published in Personal­führung 09/2018 gives practice-led answers and describes the evolution of strategic workforce planning with Dynaplan Smia at Deutsche Bahn.
Read the article
Dynaplan SWP training
Dynaplan offers standard and bespoke training to partners and customers who want to learn more about how to:
Manage SWP projects
Use SWP on an on-going basis
Tailor SWP to specific needs
Use the contact form to get more information and sign up for trainings.
2. Identify key job clusters and key drivers
Using the strategic questions, the right level of detail for the job clusters can be derived. In addition, drivers are defined, which must be considered in the planning model and specified in causal relationships within and between the supply side and the demand side.
In this phase we also set up the connection to your business warehouse, e.g. SAP, and load data about the past and current workforce into the SWP model. We are now ready to inspect the past and current state of our workforce, before we switch to the future perspective. What are the steps needed to keep the future workforce in line with the needs of the organisation?
3. Model future scenarios
Starting from an initial scenario where external factors and internal drivers are derived from historical developments, other scenarios can depict a range of options for action and thus provide a full risk analysis. Therefore we follow a consistent scenario process.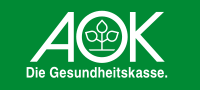 Read about the AOK Hessen use case (in German): SWP and HR Analytics – A pathfinder for the management.
4. Derive optimal HR measures
The aim of the scenario process is to develop the right combination of measures along the HR value chain. To get a full picture of capacity, qualification, and age risks you can analyse each defined job family in different views.
Smia allows you to set up and compare a number of different scenarios. The assumptions and options tested in each scenario are documented and input via the control panels of your SWP model, using sliders and tables, as illustrated here.
The flow of people entering, developing within, and leaving your organisation can be explored, for example using bridge or waterfall charts, like the one below.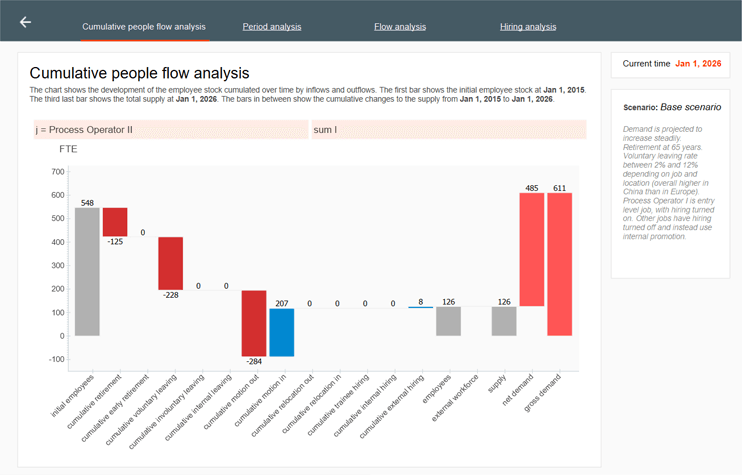 Clusters where there is too much or too little capacity are easy to spot using Smia's heat maps. By using the simulation horizon as one of the axes, you can follow the opening and closing of gaps over time.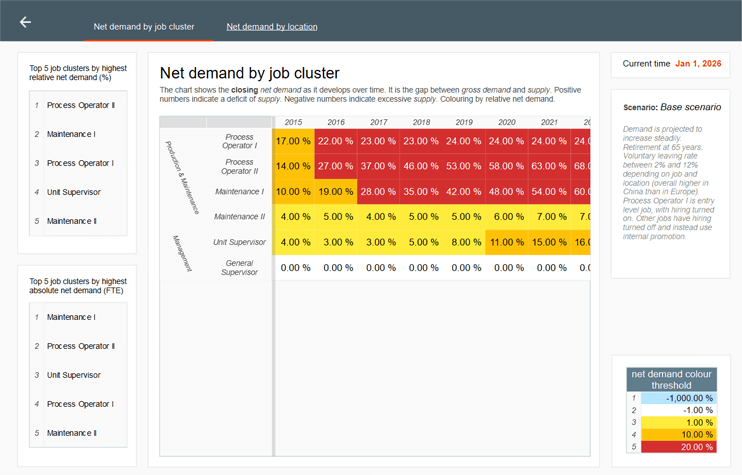 5. Efficient and effective SWP on an on-going basis
Together with Dynaplan, the initial SWP project produces a planning model which can be used again and again, from one planning period to the next. Via connectivity to SAP, the latest HR information is loaded automatically, and you are ready to roll your forecast forward and explore challenges and options in the light of the latest available information.
HR practice group
Subscription to our operation support programme gives free access to our HR practice group, where customers get together with Dynaplan and invited experts to learn from each other, and to discuss the road forward in strategic workforce planning.
Sign up now
Please use the contact form if you are interested in how to get started with strategic workforce planning for your own organisation.
Use the links below to see how Dynaplan supports planning in your area of interest.