Powerful SWP starter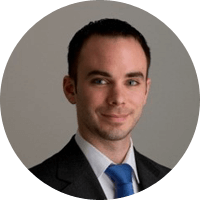 "There are two common misunderstandings about SWP:
It's something for big companies only.
It's the result of a big IT project.
Both are wrong!", says Olivier Müller.
Recruiting, developing, and retaining the right people is vital for success, not just for the big players, but maybe even more so for small and mid-size companies.
HR Match, our lean entry-level SWP solution, is ready for use out of the box. No big IT investment is necessary. The HR Match starter is free for companies up to 250 employees. Larger companies can get a time-limited test version.
Please use the contact form to accept our invitation to explore HR Match on your own or ask for more information.
Your invitation to try out HR Match
Fast-track to SWP
Although packed with functionality, HR Match is probably the fastest and most cost-efficient way ever to get value from strategic workforce planning. How is this possible? Let us walk you through a typical journey with HR Match.
1
What does my current workforce look like?
2
What should my future workforce look like?
Before beginning your journey, you must pack your bag. For our little adventure that means that you have accepted our invitation to test out HR Match starter and followed the instructions to launch the software.
Knowing your starting position
HR Match first leads you through the steps for configuring the application and filling in data about your current workforce. Here you can explore the age distribution of your workforce, or the distribution of people in different job clusters.
Finding your direction
HR Match uses scenarios to define planning assumptions and derive forecasts for how things will develop under such assumptions.
Business-as-usual is your base scenario. It tells you how your workforce will develop if you don't change anything. Most likely, gaps will open between the actual and the desired number of employees in different job clusters. It is time to introduce some measures.
HR Match lets you experiment with ways to recruit, develop, and release workers to match the future demand your SWP model forecasts.
It is a fun, creative, and totally risk-free exercise, allowing you to limit any costly mistakes to the virtual world while reserving the good strategies for the last step of your SWP journey with HR Match:
HR Match in use at Stadtwerke Solingen
SWP is not only a topic for the very big corporations. An article published in PERSONAL­FÜHRUNG 11/2019 describes how, after attending one of our free webinars, Stadtwerke Solingen started using our preconfigured planning tool HR Match to analyse their workforce planning challenges, and how they derived robust measures to address them.
Read more
Walking the walk
Through scenario simulation you have now identified the future that you actively want to shape.
It is time to open your backpack, take out the measures you identified during your HR Match journey, and put your strategy into action.
Note that the plan scenario is also a powerful communication device that you can use to prepare colleagues for the road ahead, set expectations, and motivate people to address challenges along the way.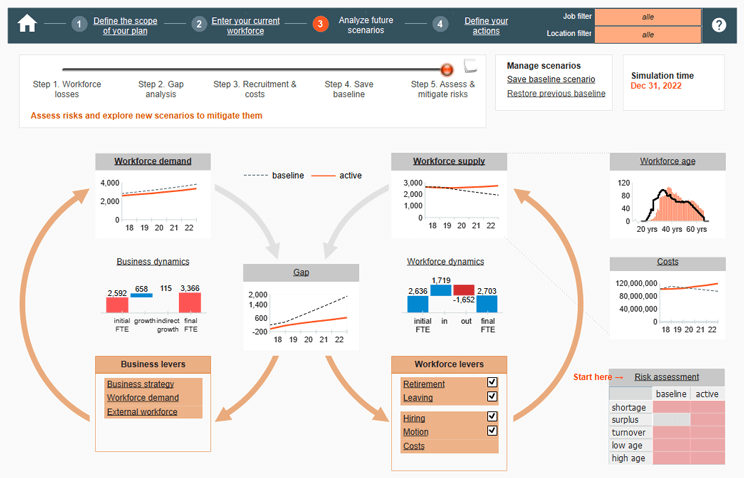 Please use the contact form if you would like to try out HR Match starter for free!
Strategic workforce planning in small and mid-sized companies

This interesting article was featured in the June/July 2018 edition of the KMU-Magazin (only available in German). It depicts why SWP is becoming a more relevant differentiator especially for small and mid-sized companies.
Read the article
HR Match — what next?
With HR Match you get an entry-level solution that can be configured to match the structure of your own workforce, for example the way your company organises jobs into job families or job clusters. For small companies this is probably sufficient, but to get access to state-of-the art SWP, you want to upgrade to our full SWP solution, where we develop your SWP solution together to match your exact needs.
Additional possibilities made available through our advanced SWP solution include:
Complete fit to your other planning and work processes.
Qualification, gender, and other characteristics of your workforce.
Collaborative central and regional planning using our shared model technology.
Automatic distribution of planning assumptions, collection of inputs, and consolidation.
Connectivity to enterprise data, such as SAP/BW.
Fully tailored supply and demand models.
Fully customised user interface.
Learning strategic workforce planning
If you are new to SWP, here are some resources that might help you:
The SWP transition game gives you a one-hour immersive experience of SWP challenges relating to digitalization.
Together with Haufe Akademie we offer a webinar series on SWP (currently only available in German).
Use the contact form above to learn more about these resources.